---
Cool Stuff that we are selling off...
Ground Penetrating Radar (GPR)
Compact hand-held or vehicle-mounted GPR.
Powered from user's PC or tablet computer.
Proven accuracy in measurement of fresh-water ice thickness.
Can provide imagery of any underfoot material to 2 m depth.
Asking USD 5,000, delivery charges additional.
---
Special door for air deployment of tubular loads, such as position beacons.
Attaches to DHC-6 Twin Otter aircraft.
User responsible for necessary usage certificates.
Estimated replacement value of USD 18,000.
Available for general sale or for donation to a Canadian public institution.
---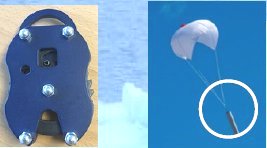 Mechanical mechanism releases parachute from payload on ground contact.
Avoids use of pyrotechnic release.
Suitable for 10-20 kg payload.
USD 49 per unit.
---
Rare archive of Arctic sea-ice imagery
High resolution synthetic aperture radar images of ice in the Beaufort Sea.
From 1986-1990 period.
Precedes period of high frequency spacecraft coverage.
Portions can be copied according to user interest.
Value exceeds USD 250,000.
Available for donation to Canadian public institution.
---